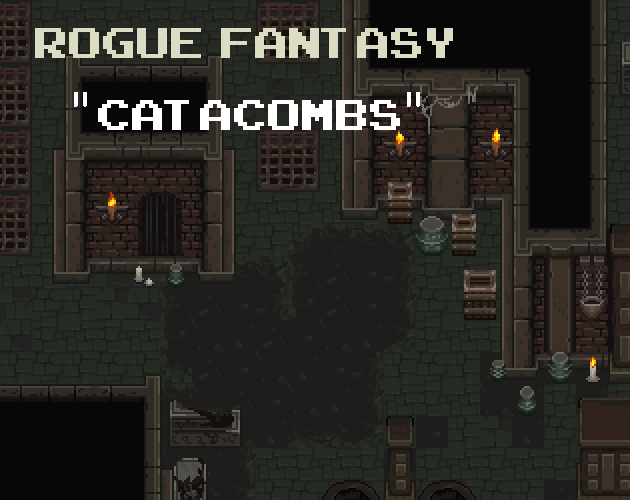 Rogue Fantasy Catacombs
Comments
Log in with itch.io to leave a comment.
This tileset looks amazing
Hey, I'm working on an Open Source Project and considered using some of your Assets for it. Is this fine under your License? It'd basically mean that we'd have to distribute a version of your work with the Source Code of the game we work on.

All in all, cool Assets :)

Will this work on RPG MAKER MV?
If Rpg Maker MV support 16x16 tiles, then yes.
I just looked it up. It's 48 x 48 by default

I think they look amazing! I like them just not the right size. :(

You can resize them by x3. 16 * 3 = 48.
Turn off resize filters to keep the pixels looking good (off is sometimes called nearest-neighbor and other names).
Besides resizing the tiles you will need to arrange them into RPG Maker MV tile maps (some of which are auto-tile maps).
👏👏 Love your work. So easy to work work with making maps.
Looks great. Do you have a specific license?
Personally and commercially.
Even with how beautiful your "RPG Worlds" assets are it's good to see another "Rogue Fantasy" asset in the set.
César may have meant like the GameDevMarket license which basically allows royalty-free use the assets in commercial products as long as the assets are part of a product like a game or video and not re-sold as assets themselves.
Linking your asset pages to the appropriate license can eliminate a lot of uncertainty with potential customers. Common concerns:
Are the assets Royalty-free?
Can the assets be used in only one project per purchase or unlimited projects?